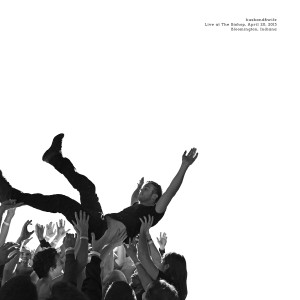 husband&wife – Live At The Bishop, April 20, 2013 – 2xLP + Concert Film + MP3
April 20, 2013 was the very last time that husband&wife ever played a live show, or ever did anything at all. And like every XRAfest or XRA album release show before it, in that moment, it felt like it really, truly mattered. The show was a massive, emotional, celebration of a band that had made it work well for more than a decade. At least seven official members, innumerable contributors, four full-length albums, two 7″ singles, scattered EPs and collections of demos and live material, tour dates, my god, so many tour dates…all of that building excitement, hopeful experimentation, and rallying support came crashing together into one final singularity on that night at The Bishop.
Now, as a tribute to the band that created and sustained XRA Records for it's entire life cycle, and as a final nail in the coffin of this collapsing, wheezing, enterprise, we're offering the official document of that magical night on 2 LPs, mp3s, and a concert film!
With a track list that spans from husband&wife's very fist demo release to it's final 7″ single and everything in between, this warts-and-all live recording and concert film captures the DIY, never-say-die, quitters-never-win spirit that fueled everything the band did all the way up until they quit, and the band died. Applause, cat-calls, guest musicians, surprising musical twists and turns, tears, and cheers pepper this collection with true, palpable excitement and bittersweet remembrances of the anecdotally nicknamed, "World's Nicest Band". Were you there? Will you return to the well with us one last time?
(PS – we're selling this sucker CHEAP just as a way to say thanks and to clear the shelves off a bit. Limited to 300 copies)
((PPS – This is a preorder, but the LPS will ship just as soon as they arrive. They're at the plant being pressed as we speak))
2xLP Tracklist:
Side A:
Battlecab Dramatica
Begone Long One
Florida Hideaway
Red Cross Fever
Support Yourself
Not Every Bird Can Fly
Side B:
Nice Pipes
Haven't Got A Friend
Supersize Me
I Got Fat
England Lives
Cross-Fingered Handshake
Side C:
Heroic Symphony
Don't Change
6 Little Indians
I'll Avenue Body, Graceland Lord, I'll Avenue Life
Don't Rush
Side D:
You Remain Unloved
The Build
Class War
I'll Wait
Proud Flesh
(digital download includes bonus tracks "Thanks For Understanding", "Low Profile" and "Mulberry Squeezins")
Live at the Bishop, April 20, 2013
Artist
husband&wife
XRA-050 / 2xLP+Film
1/29/16
---
Out of Print