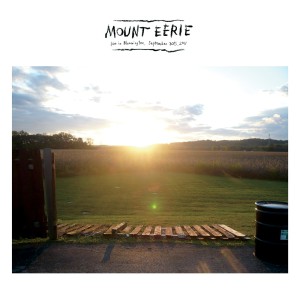 I suppose this is a familiar story, but in 2001 I moved away from my hometown in rural Indiana (population 311) and headed off to college. The very first thing that I did after my parents dropped me off was visit the record shops. There was a Karma brand record store where I came from, and a used CD store, but nothing like what Bloomington had to offer. I also made a few fast friends. One time, at one of those record shops one of my new friends handed me one cd copy of The Microphones The Glow, pt II and said, "You should get this, I think you'd like it.". I did get it, and I did like it. I had never seen a CD that looked like that before, and I had certainly never heard anything like it. Over the next few months I spent a little bit of my McDonald's brand paychecks buying up the CDs in The Microphones back catalog, and ever since then I've been a big fan of all things The Microphones/Mount Eerie/Phil Elverum.
The reason I just wrote all that crap about myself is because I hope you'll get a sense of how excited I am about releasing this new album called Live in Bloomington, September 30th, 2011 by Mount Eerie! This album was recorded one night in Bloomington, Indiana during a Mount Eerie show that happened some time after Wind's Poem was released and just before the release of Clear Moon. At the time, no one really knew about Clear Moon, and so it was surprising when Mount Eerie showed up to the concert as a three piece band with only two keyboards and a guitar! Where was the drummer? Where was the heavy metal band!? This was not that kind of show. Instead, it was an intimate concert closer in vibe to Lost Wisdom or Dawn, but it sounded unlike any Mount Eerie music that existed up to that point.
I highly recommend listening to this record…it's really the best way to know. But, if I have to describe this music in words, I'd say it this way. Live in Bloomington, September 30th, 2011 is a collection of Phil Elverum's songs spanning from It Was Hot We Stayed In The Water all the way through Clear Moon, each one passing through the same stylistic filter that brought us "Through The Trees" or "Between Two Mysteries'" Twin Peaks nod. Add to that the intimacy and energy of a live concert experience, masterfully recorded by Mike Bridavsky at Russian Recording.
As a long-time fan of the band, I like this record most for reimagining songs that I've already loved in a new way – in some cases, in the complete opposite way – and introducing them to me from a different persepctive. It also serves as a high quality portrait of what the Mount Eerie live experience was like in 2011 and is one more pinhole into the ever-varied creative mind and genius of Phil Elverum.
TRACKLIST:
introduction
House Shape
Between Two Mysteries
Ancient Questions
Karl Blau
No Inside, No Out
The Place I Live
Lone Bell
See Me
Stone's Ode
The Place Lives
VIDEOS:

Live in Bloomington, September 30th, 2011
Artist
Mount Eerie
XRA-043 / LP + MP3
---
Out of Print