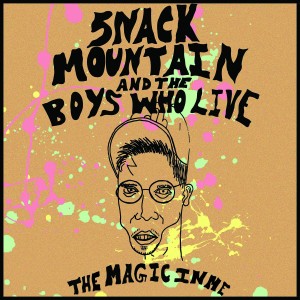 Snack Mountain is Zack Melton. And of course, XRA fans will be familiar with Zack from his long and ongoing role as frontman for power-pop-punk band Rodeo Ruby Love. But "Mountain" is the perfect pseudonym for "Melton" on this release because – while Zack's distinct gift of melody and infectious expression is soundly in tact – this is the most adventurous record Zack Melton has ever made. While he seems to have lifted his "punk" foot off the ground, his "pop" foot becomes the pillar here, and he's perfectly balanced and ready to Crane-Kick us into an entirely new perception. Thanks in part to major production contributions from Burke Sullivan (New Terrors, husband&wife), we're hearing out-of-left-field influences all over these tunes – hair metal guitar licks, am radio-smooth r&b drum machines, garage rock aggression, barbershop harmony – all tied perfectly together by Zack's classic brand of melodic sense and lyrical imagery. And while the record is very eclectic, it never feels disjointed. That's because every one of these seven songs is held strongly together by one central theme. And that theme is Harry Potter.
Here's Zack:
"I just finished my 10th time reading through the entire Harry Potter series. As soon as I finish it, I can't wait to begin it again. I can get lost in the story. It's a beautifully written series that grows and matures as it continues. There are certain moments throughout that seem not only incredibly human but unbelievably personal. On, "The Magic In Me", We tried to capture these moments in a non-obtrusive way. A person could never have read or watched the series and still enjoy the songs because they are honest, heartbreaking experiences and have little to do with the Wizarding World. When Ron apologizes to Harry for not believing he put his name in the Goblet of Fire; when Harry chooses to be in Gryffindor; when Harry comes face to face not only with his own mortality but with the fact that he might be a danger to the people he loves."
The Magic In Me is out on 3/24/15 with preorders beginning right away: 150 cassette tape versions on red and gold tapes (Go Gryffindor!), and unlimited digital versions.
TRACKLIST:
The Magic In Me
How Was I To Know
The Forest Again
Under
With You
Choosing
I'll Be True
The Magic In Me
Artist
Snack Mountain
XRA-048 / EP
---
Out of Print