New MOUNT EERIE 12″ Coming In June!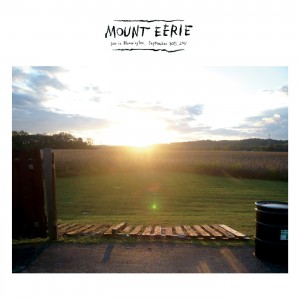 I'm more-or-less just sitting here rocking back and forth, giggling and shaking as I write this, so please forgive me any typos or incoherent ramblings, but I'm VERY excited to announce that XRA will be releasing a brand new 12″ LP on June 11, 2013 called "Live in Bloomington, September 30th, 2011" by one of our all-time favorite bands, MOUNT EERIE!!!!
This is a live recording from a Mount Eerie show right here in good old Bloomington. Masterfully recorded and mixed by Mike Bridavsky at Russian Recording, it's beautiful, spooky, and sounds unlike any other previously released Mount Eerie record (believe me, we know…we've heard all of them… like, 100 times each…we love them!)
There will be a lot more info on this in the coming weeks, including song samples and preorder info. For now though, please enjoy (and share) this promotional video for the album with everyone you know:
Mount Eerie – Live In Bloomington, September 30th, 2011 – Promotional Commercial
TRACKLIST:
introduction / House Shape / Between Two Mysteries / Ancient Questions / Karl Blau / No Inside, No Out / The Place I Live / Lone Bell / See Me / Stone's Ode / The Place Lives
Upcoming shows

All our bands are off making more beautiful music. Check back as new shows and tours get posted.